Weekly Veggie Box
Let us fill your plates with freshly harvested, organic veggies all summer long!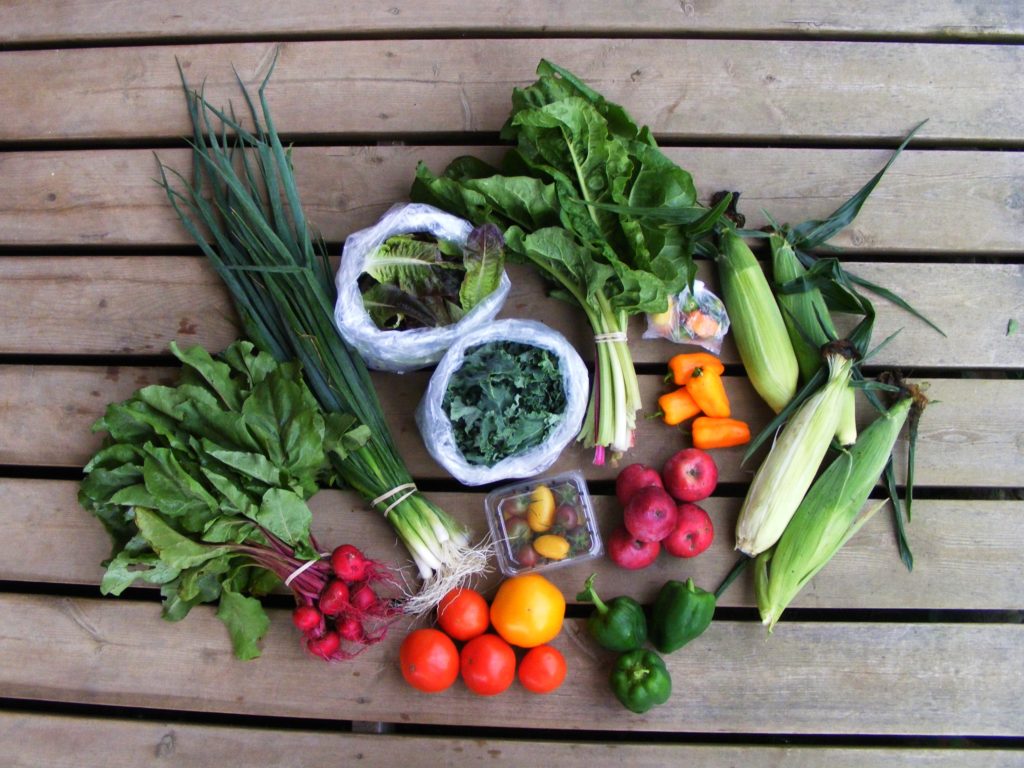 By signing up for a weekly veggie box, you are guaranteeing yourself fresh, healthy vegetables for your meals all summer long. You won't have to speculate about how long your vegetables have been sitting in a cooler and you won't have to worry about how many miles they traveled to get to your plate…. you will have freshly harvested, locally and organically grown vegetables reserved just for you!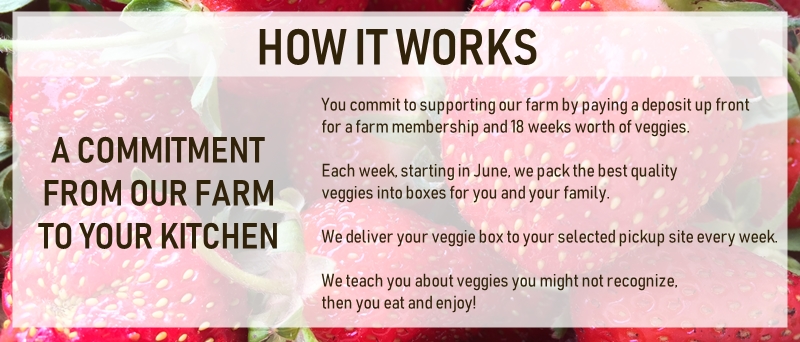 A Weekly Veggie Box might be appealing to you if…
√ You love fresh veggies!
√ You value the taste of quality ingredients.
√ You aren't afraid to try new things in the kitchen.
√ You are interested in learning about where your food comes from.
√ You want to support a local farmer and their family.
More than just veggies? That's right! These are some additional perks included when you sign up:
18 weeks of fresh, great tasting, certified organic vegetables.
Option to customize your box through our email ordering system.
Access to our members-only Facebook group with video tutorials and more!
Free healthy recipes and meal plan suggestions.
Information about vegetables you may not recognize or know how to cook. We can be your guide to new flavours and meal experiences!
Training on how to preserve vegetables so that you will have plenty of options to choose from in your pantry over the winter months.
An invitation to our farm on designated days throughout the season so you can see how we grow your food!
Ready to jump in?
Click the button below to download all the important details to sign up!
What veggies to expect:
Here are some examples of boxes from 2018 to give you an idea of what veggies to expect throughout the season.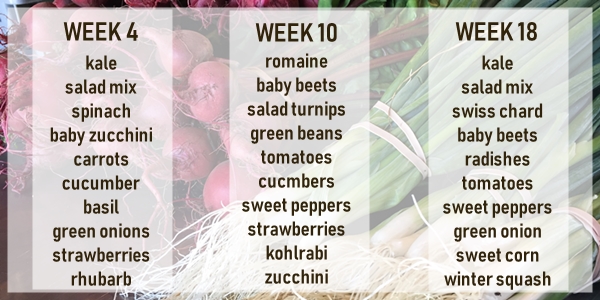 The option to customize your box will give you the flexibility to pick and choose which veggies you will receive from week to week.
Are you going on vacation and worried that you might miss a week?
We will be growing veggies for more than 18 weeks so you'll have the option to skip a week and get an extra box at the end of the season, weather permitting of course!
Veggie Box Sizes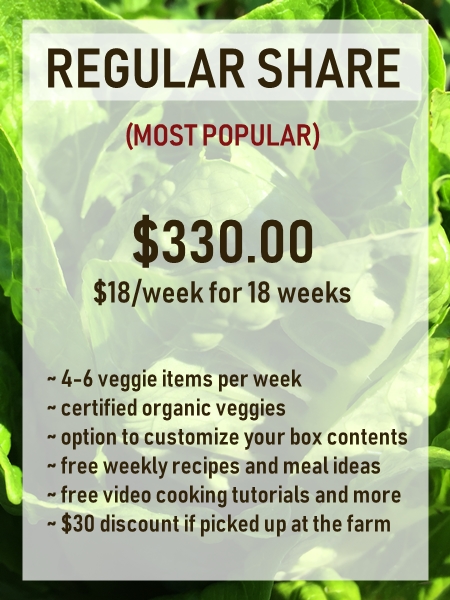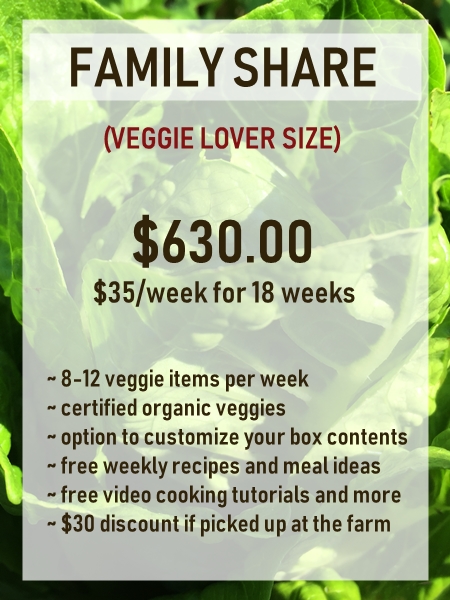 Pickup Locations
Spencerville
at the farm
3015 County Road 21
Fridays 3:00pm-6:00pm and Saturdays 9:00am-5:00pm
$30 discount if you choose this one!!
Ottawa
– Tunney's Pasture, Main Building, Tuesdays, 11:45am-12:15pm
– 331 Cooper Street, Tuesdays, 12:30pm-1:00pm
– Nepean, Colonnade Road, Tuesdays, 2:00pm-3:00pm
– CHEO, Wednesdays 10:00am-2:00pm
Brockville
– at the farmers' market, Saturdays between 8:00am-1:00pm
Kemptville
– home delivery depending on location, Friday afternoons
Dunrobin
– Greenland Rd, Thursdays 6:00pm-6:30pm
Download the complete info package about our Veggie Box Program!
It includes a veggie harvest chart and all the details needed to sign up!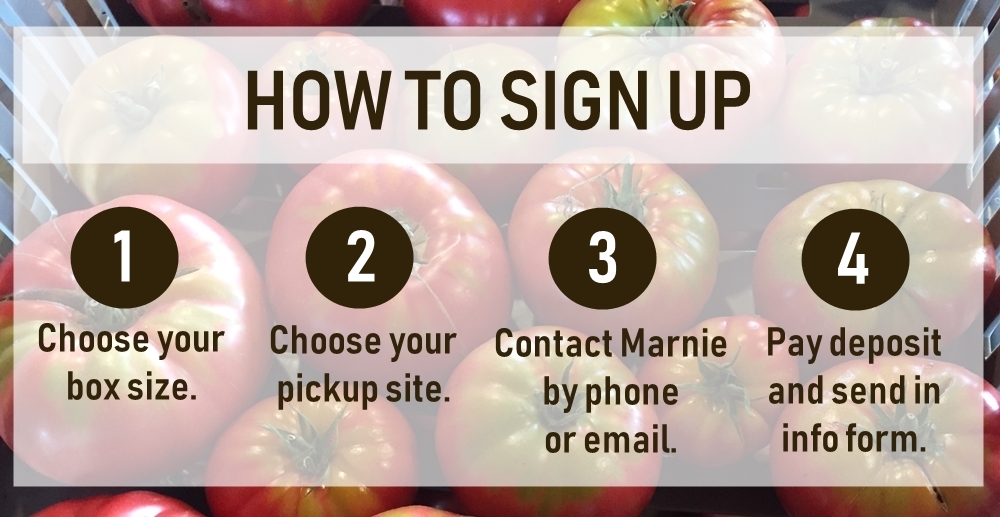 (613) 914-5572 / contact@fairsunfarm.ca