CSA Vegetable Shares
Let us fill your plates with freshly harvested, organic veggies all summer long!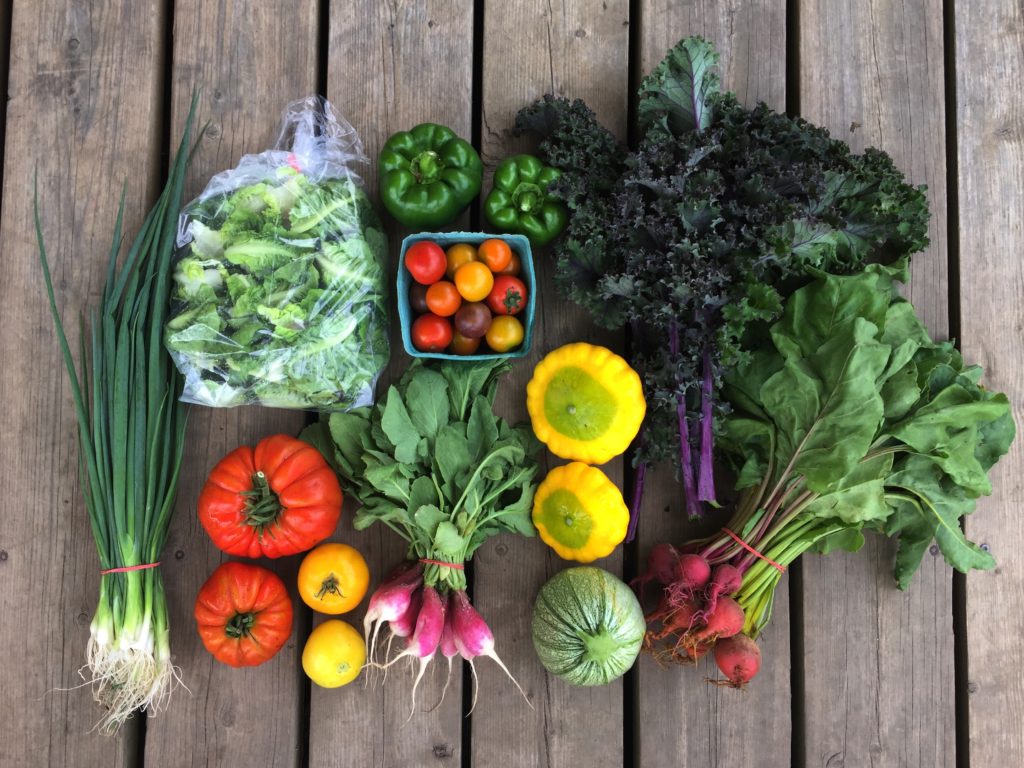 What is CSA?
Community Supported Agriculture (CSA) is a farming model in which consumers purchase food directly from the farmers who grow it.
Members pay in advance for a share of the food to be grown during the upcoming season.
By investing in a local farm each year, members help ensure the ongoing presence of farms in their community and become connected with their food and the people who grow it.
By signing up for a vegetable share, you are guaranteeing yourself fresh, healthy vegetables for your meals all summer long! You won't have to speculate about how long your vegetables have been sitting in a cooler and you won't have to worry about how many miles they traveled to get to your plate…. you will have freshly harvested, locally and organically grown vegetables reserved just for you!
You have your family doctor, your dentist, even your mechanic, shouldn't you have your farmer too?
---
A Vegetable Share might be appealing to you if…
√ You love fresh veggies!
√ You value the taste of quality ingredients.
√ You are interested in learning about where your food comes from.
√ You want to support a local farmer and their family.

---
Our CSA Program
We use Harvie to run our vegetable share program!

Harvie is a software platform that helps farmers like us offer their customers a customizable farm share program.
Here is how it works: Each week's share will be based on a combination of your preferences and what our farm has available that week. For example: don't like beets? Rate them a "not for me" and you will never get them in your share! Love carrots? Rate them "I love them" and if we've got them, you'll get them! And each week you can further customize your share by swapping items too!
Harvie gives you more choice and flexibility while still supporting local, seasonal farmers!
---
What our members are saying:

"I really loved the quality of the vegetables – they lasted a lot longer in the fridge than vegetables purchased at the grocery store."

"Great veggies. We were delighted with our veggie box each week , will do it again for sure!"
---
Sizes & Pricing
Sizes
---
spring and summer shares available
~
different sizes to meet your needs
~
weekly or bi-weekly delivery
Pickup
---
Pickup locations in:
Ottawa
Kemptville
Brockville
Spencerville
Dunrobin
Payment
---
Two different payment options:
pay in full at the time of registration
or
choose the convenient payment plan
Earn a $25 credit when you sign up beofre Feb 15th, 2020!

---
These are some additional perks included when you sign up:
Delicious and fresh certified organic vegetable.
Option to customize through our email ordering system.
Access to our members-only Facebook group with videos, recipes and more!
Free healthy recipes and meal plan suggestions.
Information about vegetables you may not recognize or know how to cook.
An invitation to our farm on designated days throughout the growing season so you can see how we grow your food!
2020 Registration is OPEN!
---
Not quite ready to be a member?
If you want to support your local farm and eat healthy but cannot commit to a full farm share season, you can use the farm stand to purchase one time shares. Once you sign up, you'll continue to receive notifications when we have one-time shares available.
---
(613) 914-5572 / contact@fairsunfarm.ca