CSA Vegetable Shares
Let us fill your plates with freshly harvested, organic veggies all summer long!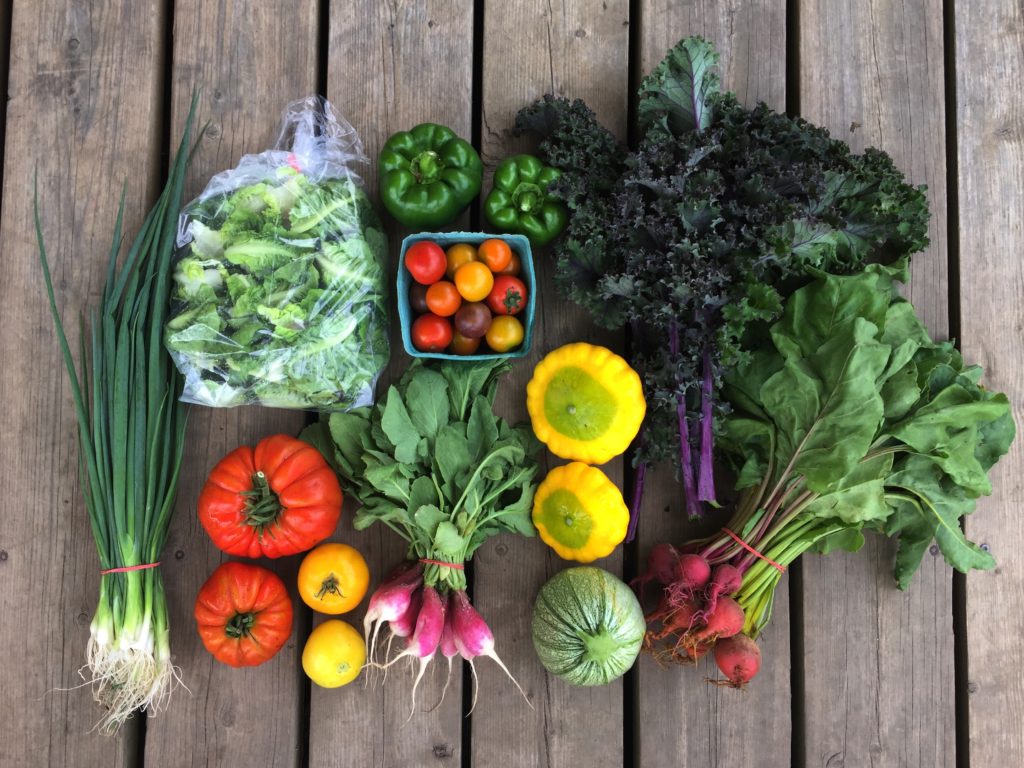 What is CSA?
Community Supported Agriculture (CSA) is a farming model in which consumers purchase food directly from the farmers who grow it.
Members pay in advance for a share of the food to be grown during the upcoming season.
By investing in a local farm each year, members help ensure the ongoing presence of farms in their community and become connected with their food and the people who grow it.
By signing up for a vegetable share, you are guaranteeing yourself fresh, healthy vegetables for your meals all summer long! You won't have to speculate about how long your vegetables have been sitting in a cooler and you won't have to worry about how many miles they traveled to get to your plate…. you will have freshly harvested, locally and organically grown vegetables reserved just for you!
You have your family doctor, your dentist, even your mechanic, shouldn't you have your farmer too?
A Vegetable Share might be appealing to you if…
√ You love fresh veggies!
√ You value the taste of quality ingredients.
√ You are interested in learning about where your food comes from.
√ You want to support a local farmer and their family.
More than just veggies…
That's right! These are some additional perks included when you sign up:
Delicious and fresh certified organic vegetables.
Option to customize through our email ordering system.
Access to our members-only Facebook group with video tutorials and more!
Free healthy recipes and meal plan suggestions.
Information about vegetables you may not recognize or know how to cook.
An invitation to our farm on designated days throughout the season so you can see how we grow your food!
2020 Registration will be OPEN SOON!
Pickup Locations
Spencerville
at the farm
3015 County Road 21
Fridays 3:00pm-6:00pm and Saturdays 9:00am-5:00pm
Dunrobin
Greenland Rd, Thursdays 5:30pm-6:00pm
Ottawa
– Tunney's Pasture, Main Building, Wednesdays, 11:45am-12:15pm
– 331 Cooper Street, Wednesdays, 12:30pm-1:00pm
– CHEO, Wednesdays 10:00am-2:00pm
Brockville
at the farmers' market, Saturdays between 8:00am-1:00pm
Kemptville
pickup location TBD, Fridays 5:00pm-6:00pm
Sign Up
Harvie runs our vegetable share program!
Harvie is a software platform that helps farmers like us offer a customizable farm share program.
It gives you more choice and flexibility while still supporting local, seasonal farmers!
Here is how it works: Each week's share will be based on a combination of your preferences and what our farm has available that week. For example: don't like beets? Rate them a "not for me" and you will never get them in your share! Love carrots? Rate them "I love them" and if we've got them, you'll get them! And each week you can further customize your share by swapping items too!
(613) 914-5572 / contact@fairsunfarm.ca