our CSA shares
CSA : Community Supported Agriculture
CSA is a system that cultivates connections between farmers and the people eating what they grow.
By subscribing to the harvest of a certain crop, both the risk and the bounty is shared by the subscribers and the farmer. Investing in a CSA membership is just one of the many ways people who believe in "real, transparent food" can support a farmer in their community.
CSA shares are not for everyone, and that's OK!! There are many ways to support farmers, such as buying produce at your local farmers' market, independent grocery store or at a local farm's roadside stand.
Buying a CSA share is not a small investment and we work hard to make sure every member gets the value they deserve from our delicious vegetables and various membership perks.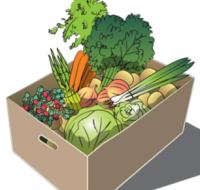 Summer Vegetable Share – June to October 2018
full share:

$630 at one of our pickup locations      or     
 $600

if picked up at the farm
Half Share:

$330

at one of our pickup locations     or     

$300

if picked up at the farm

A box of certified organic vegetables grown by us on our farm in Spencerville, ON.  The varieties of vegetables each week will vary depending on the season.

A full share will contain 6-10 different items each week and a half share will contain 3-5 different items.

By choosing this share, you are guaranteeing yourself fresh healthy vegetables for your meals all summer long. You won't have to speculate about how long your vegetables have been sitting in a cooler and you won't have to worry about how many miles they travelled to get to your plate…. you will have freshly harvested, locally grown vegetables reserved just for you!

Our vegetable share includes:
18 weeks of fresh, great tasting, certified organic vegetables.
Access to our members-only Facebook group with video tutorials and more!
Free healthy recipes and meal plan suggestions.
Information about vegetables you may not recognize or know how to cook. We can be your guide to new flavours and meal experiences!
Tips about the best ways to store different vegetables so they stay fresh until you are ready to use them.
Training on how to preserve vegetables so that you will have plenty of options to choose from in your pantry over the winter months.
An invitation to our farm on designated days throughout the season so you can see how we grow your food!
to learn more contact us by phone or email
 Pickup Locations
Spencerville

– At the Farm
Brockville

– Saturdays at the Brockville Farmers' Market from 8am-1pm
kemptville

 – Thursdays evenings