Operations at the farm are run by the wife and husband team of
Marnie Chown   &   Patrick van der Burg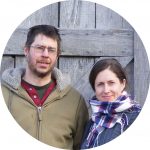 We have adventured, learned and laboured together for well over a decade and we have been able to explore Canada from coast to coast while doing so. We've studied in Halifax, Nova Scotia, planted trees in the forests of Ontario, Alberta and B.C. and farmed for 8 years in rural Alberta. Now we are settled in Spencerville, Ontario and ready to take on a new challenge and grow our family.
We really value our community. It was extremely hard for us to leave our friends and family in Alberta.
We look forward to meeting new people and creating new bonds once again. Our hearts are open to new beginnings!

"It warms my heart greatly to see people take such pride in what they produce. People like these two keep me inspired to stay inspired and makes me happy to know I live among others that care as much as I do. Thank you for your wholehearted effort that produced such a great product. Greatly appreciated in more ways than I can count." -B.W.